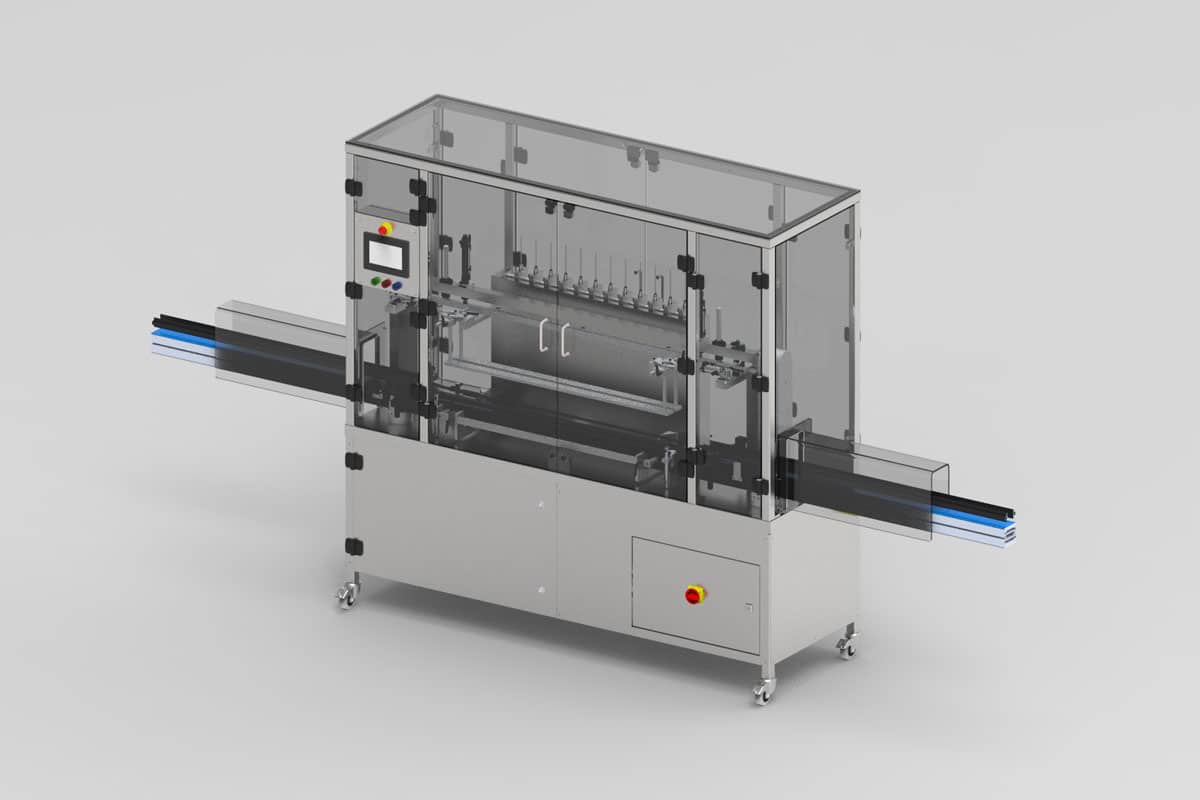 Blow-out module HLB 120
The containers to be blown out are rotated 180° during the cleaning process.
The machine of the HO-MA blow-out module series is designed for e.g. the following segments:
Pharmacy-free medicines – Healthcare – Diagnostics – Food & non-food products
All machines always meet our high-quality standard
Standardized technology
Space-saving design
Gentle object transport
Fast size part changeover
Innovative operating concept
Competent service
Options of the Blow-out module HLB 120
Vacuum unit on drawer, if central extraction not available
Ionising station according to task
Moulded containers by arrangement
etc.
Combination possibilities with the other HO-MA modules of the series
Product feeders for glass, plastic containers (stable and non-stable)
Filling module HRF 35 in a wide range of configurations
Capper module HRC 35 in various configurations
Labelling module HRL 35 with or without printing option
Product transfer or product buffer systems
In-line or corner installation possible
Suitable for the following blowing tasks

Products
Round containers made of glass or plastic
By agreement: shaped containers and
containers with angular transition cylinder to bottle neck
Cleaning type
Containers are rotated by 180° degrees (motorized drive)
Cleaning nozzle in container with suction flange at the filling opening
Production output
Up to 120 packs/min.
depending on the shape and the filling opening of the container.

Product dimensions
Up to Ø 55 mm
Up to 170 mm height
From 7 mm filling opening

Basic machine

Dimensions
Basic machine approx. 2,000 mm x 700 mm x 2,100 mm
Plus infeed and outfeed protection, continuous conveyor belt
Extraction
Can be connected to customer's system or
with vacuum unit (extractable installed)
Pneumatics
Sterile filter in the basic equipment
Antistatik
Optional - Ionizing station, position to be coordinated

Format change

Cleaning
Cleaning nozzles with quick-change function (clamping lever)
Lifting device
Acceptance on Centerline,
Optional - adapters according to container -shape, -height, -flexibility of the containers.

Further advantages of the HO-MA - HBL 120 blow-out station

Frame
Stainless steel frame with large doors for optimal accessibility
Vacuum unit extendable
Format change
Optimal accessibility
Format settings positioned above sliding plane

Control

Machine control system
Siemens or B&R mit 7" Panel

Stand alone or combinable with

Bottle erector HBS or FAS
HO-MA HR series Filling, closing and labeling
We will be happy to send you more information.